The Dilemma
333.2 billion. This is the projected number of emails that will be sent and received per day by 2022. Now, take a peek at your work email inbox. Take note of the number of unread emails waiting for you.  In addition to emails, you probably also have text messages, chat messages, phone calls, and voicemails.  There is a lot that goes on throughout the day.  With this in mind, is there a more efficient way to collaborate?
The Dream
Collaboration is the act of working together to create or achieve the same thing.  In particular, communication is the foundation of team collaboration.  Without a doubt, working as a team increases productivity.  In addition, it also promotes creativity and learning. Teamwork combines the strengths and weaknesses of team members.  For this reason, a team can leverage strengths to work more productively.
Team members from diverse backgrounds bring unique skills and experiences. As a result, teams can find solutions to complex problems. Undoubtedly, team collaboration is critical to the success of any business.
The Quest
Here at GridForce, we value teamwork and collaboration.  For this reason, we set out on a quest.  The goal was to uncover the best collaboration tools not just for ourselves; but for you too!  With this intention, we share our findings with you.  Our goal is to help you compare various options.  Ultimately, we hope that you find the perfect tool to help your team succeed.
The Discovery
We took a close look at five different team collaboration tools and broke down the pros and cons.  The five tools we looked at are Asana, Flock, Microsoft Teams, Monday.com and Slack.  Please note, these are in no particular order and are listed alphabetically A-Z.
---

Asana
Asana is a web and mobile work management tool that helps teams manage, organize, and track their work.  This tool fosters teamwork by streamlining communication in one spot.  Teams can create projects, assign tasks, set deadlines, and communicate.  The premium plan offers even more advanced features such as approvals, proofs, and forms.  Additionally, teams can track progress using goals, milestones, and portfolios.
✓

Pros
Prioritization
Asana is an excellent tool for prioritizing.  Moreover, it is the perfect match for teams that thrive on to-do lists.  Start dates, labels, and deadlines help teams stay on track.  "My Tasks" is a feature that automatically accumulates a user's tasks into a single view.  From there, a user can prioritize and organize tasks based on due dates.  Besides this, individual team members can also see their to-do lists within the broader team's work.
Visualization
Asana offers highly customizable dashboards.  This feature transforms data into something more meaningful.  Teams can use dashboards to visualize data in different ways.  Additionally, dashboards help teams instantly gain valuable real-time insights about their projects.  You can choose to view projects as boards, lists, timelines, or calendars.
Flexibility
Asana is best for asynchronous collaboration.  This type of communication does not require people to be present at the same time.  For this reason, Asana offers flexibility to its users.  Further, Asana Video Messaging allows users to record short videos of themselves or their screens.  As a result, video engagement can still take place without the need for more meetings.
Customization
Asana gives users many ways to customize their experience.  First, users can save time by using templates.  Next, users can customize templates to meet their needs.  In addition, custom fields allow users to decide what is important to them.
❌ Cons
Sense of Urgency
Asana is not ideal for synchronous collaboration.  Consequently, it is not for questions requiring immediate answers. Communication is formatted more like a forum than a chat messaging system.  Due to this, users may not feel a sense of urgency and take more time to respond.
Time Tracking
Time tracking is an important feature that Asana lacks.  Keep this in mind if your billing structure relies on time tracking.  In this case, you will have to look for a separate tool to supplement.
Task Assignment
Task assignment keeps team members on track.  Subsequently, everyone knows who is working on what.  Although this feature is useful, Asana only allows one user assigned to each task.  Due to this limitation, work gets stalled when the assignee is unavailable.  On top of that, a workaround is necessary to keep the project going.
Graphics-Intensive Work
Furthermore, Asana is not optimal for work that is graphically demanding.  Despite its many features, it is still difficult to manage projects that are focused on graphics.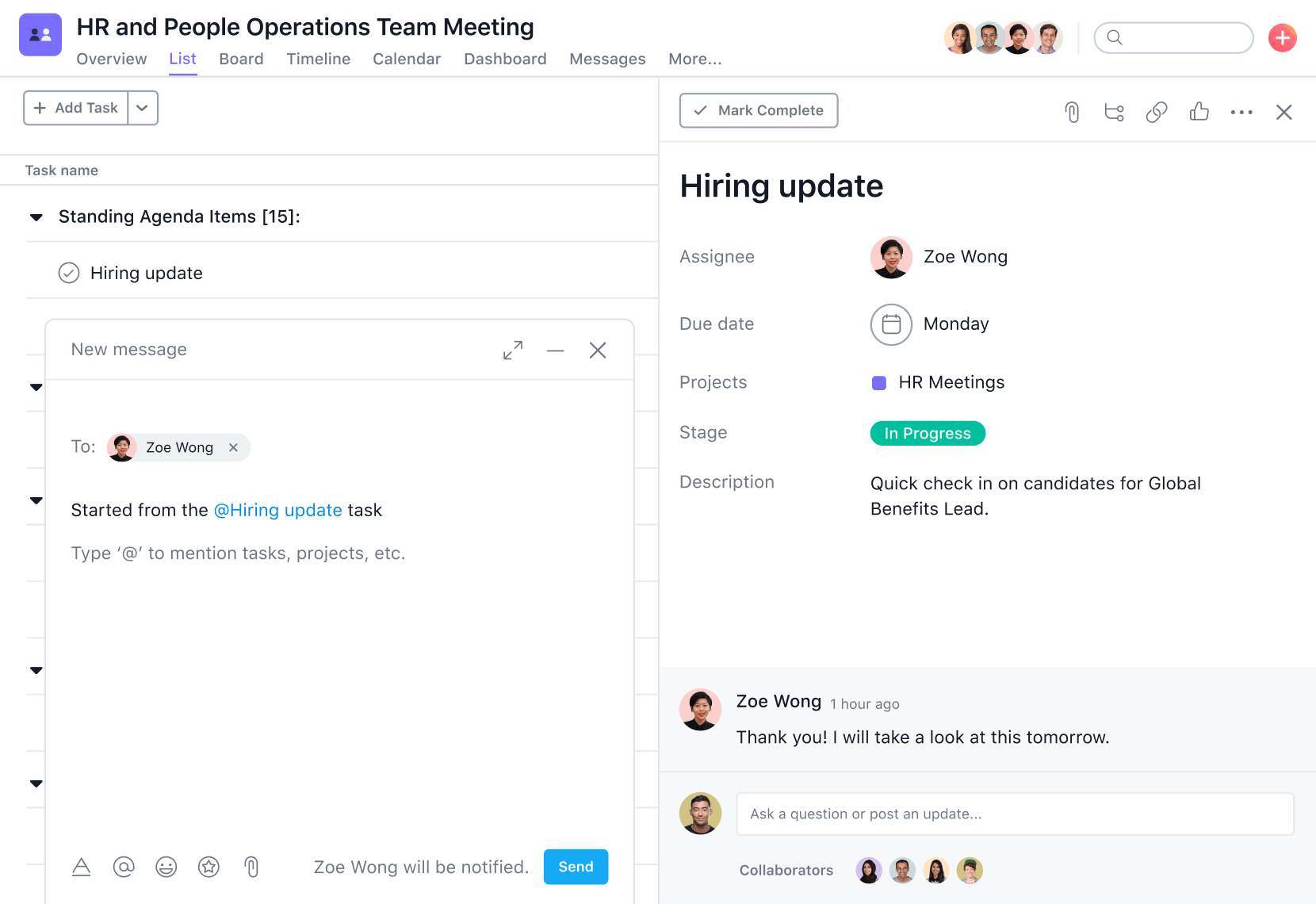 (Image Credit: Asana)
---

Flock
Flock is a messaging and collaboration platform that encourages team communication.  The main idea is that centralization can simplify teamwork.  Flock brings all communication together in one place.  Users can create projects, tasks, and teams, set reminders, and make to-do lists.  Chat, video, and audio calling, along with screen sharing keep team members in sync.
✓

Pros
Speed
What Flock does right is speed.  Compared with competitors, Flock is said to be one of the fastest tools on the market.  Flock loads 2.5 times faster than their leading competitors.  Its uncluttered, simple, and intuitive interface allows users to quickly switch between conversations. Teams can collaborate, communicate, and get work done faster.
Mute
Sometimes a conversation may get too busy with message overload.  In this case, Flock gives users the option to mute channels.  Muting helps users clear their minds and focus on what they need to do at the moment.  If something important comes up, another user can bypass mute by using the @ mention feature.
Quick View
With Flock, teams can stay in the loop. All unread messages float to the top of the messages list.  This feature keeps users up to date on their conversations. Additionally, it saves time from scrolling and sifting through messages.  Flock helps users breeze through messages with its convenient message snippet preview feature.
Sharing
Flock simplifies sharing within teams by functioning as a file-sharing platform.  To illustrate, a user can easily drag and drop files right into a conversation.  Users can share files with another user or with all the participants of a channel.  All types of files that do not exceed the 100 MB limit can be shared. Also, users can share their thoughts through opinion polls.
❌ Cons
User Interface
Although Flock is fast, its user interface lacks visual appeal.  Nevertheless, the trade-off of speed is a simplistic design. To some people, it may be clutter-free, but to others, it may be boring.  Personal preference will determine if this is a pro or con.
Customization
Compared to its competitors, Flock offers limited customization options.  What you see is what you get because Flock strives to maintain simplicity.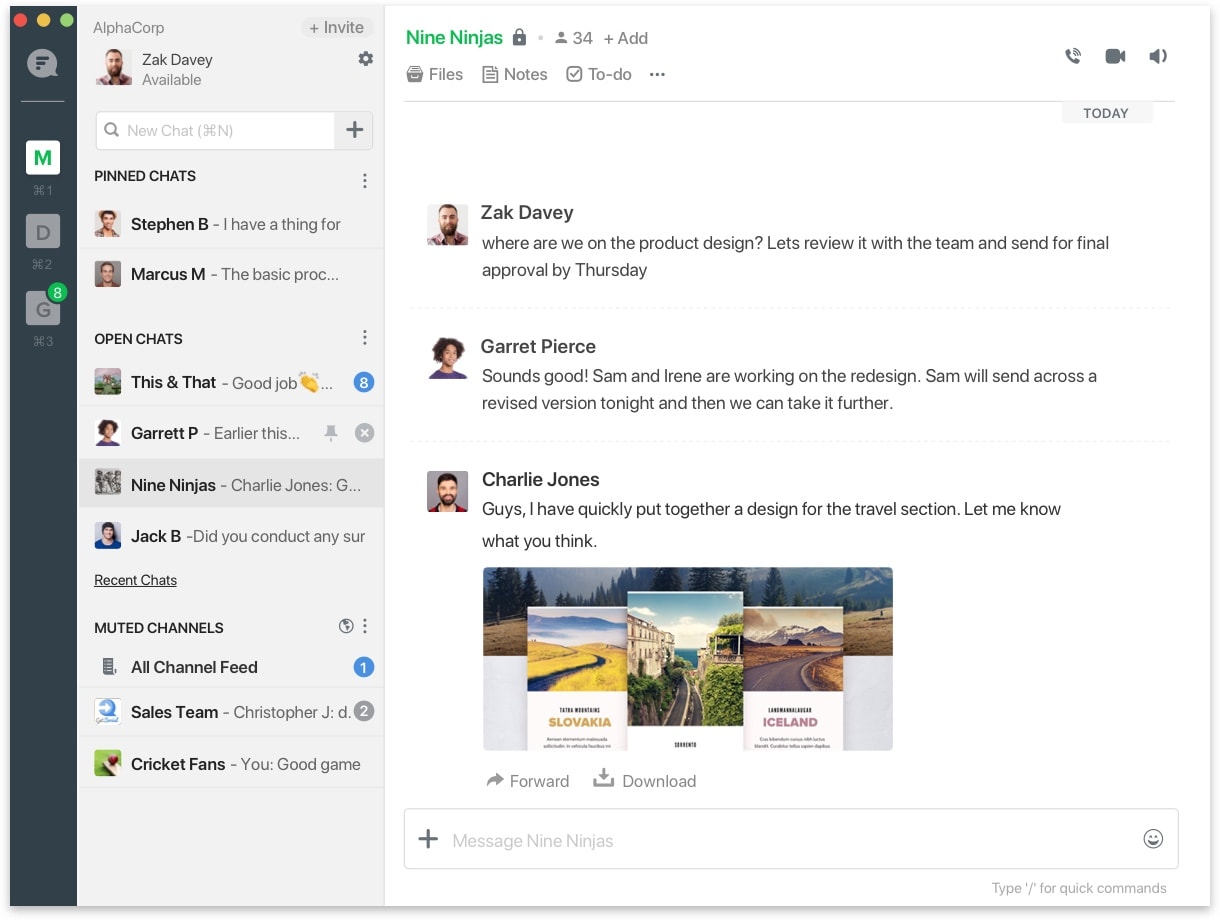 (Image Credit: Flock)
---

Microsoft Teams
Microsoft Teams is a  business communication and collaboration tool.  It offers a workspace for teams, file storage, audio calling, and video calling.  It is a place for people to have conversations and stay organized in one place.  Teams can use chat instead of email and channels instead of file folders.  Interactions such as likes, @ mentions, and replies save time with a single tap. Additionally, it can be customized with app tabs.  Overall, it helps people be productive by using familiar apps like Word, Excel, and PowerPoint.
✓

Pros
In-App Editing
One of the best features of Microsoft Teams is in-app editing.  Upload files into the shared storage or create new documents and spreadsheets within the app.  From there, you can edit in-app.  Without a doubt, this feature will keep your team on the same page.  Moreover, you can see real-time changes and work together effortlessly.
Dedicated Channels
Microsoft Teams uses a channel system like Slack.  Similarly, channels organize conversations by topics, projects, or anything your team wants.  Channels can be private to a subset of your team or public to everyone on your team.  Within channels, you can add app tabs.  Tabs bring value by integrating apps that help your team work smarter.
Microsoft Products
If your organization currently uses Microsoft products, choosing Microsoft Teams would be a logical choice.  Microsoft Teams is included in Office 365 commercial subscriptions.  Once your team gets Microsoft Teams, they can collaborate using the apps they already know and love.
❌ Cons
File Structure
The file system structure can be confusing.  Each channel has a root folder that stores files from conversations.  Unfortunately, links to files within conversations can break when files are moved or organized.  Due to this fact, users may avoid organizing files, making them harder to find.
Channel Limit
Microsoft places a limit on the number of channels per team.  Each team can have up to 200 public and 30 private channels.  This will not affect smaller businesses.  However, if you are part of a larger enterprise, this is something to keep in mind.  To overcome this, you will have to delete the lesser-used channels to create new ones.
(Image Credit: Microsoft)
---

Monday.com
Monday.com is a cloud-based work operating system that helps teams manage projects and workflows more efficiently.  What sets it apart from its competitors is its versatility.  In addition to being a team collaboration tool, it can also act as a CRM, marketing campaign manager, and more.  Its interface is reminiscent of an Excel spreadsheet.  With a remarkable list of features, teams can manage complex projects with boards, columns, checklists, calendars, automation, and more.
✓

Pros
Analytics & Reporting
Monday.com helps its users make data-informed decisions with top-notch analytics and reporting.  The formula column within a board allows users to create formulas similar to Excel.  Chart Views allow users to convert board data into easy-to-read charts. Dashboards provide insight from all boards in one location.  A simple drag-and-drop function makes it easy for teams to embed graphs and charts.  Users can further refine analytics and reporting using filters and widgets.
Time-Tracking & Timelines
Monday.com offers a built-in time tracking tool.  It is perfect for teams that want to track their productivity.  Also, it is convenient for companies that use time as a metric for billing clients.  Users can click on a timer when work begins and pause it as needed. Additionally, a timeline board gives users an idea of when projects are due.  This feature helps teams plan accordingly and be prepared.
Customization
Monday.com empowers teams to create unique solutions.  It can be customized in many ways to meet your needs.  The low-code environment provides ease of access for everyone.  Users can start with one of over more than 200 templates.  Customizing templates is as easy as a drag and drop.  Each team member can select their favorite way to view data and customize their experience.
Visual Appeal
Without a doubt, Monday.com is a winner for its dynamic visual appeal.  It boasts colorful graphics, visually pleasing data, and a color-coordinated interface.  Users can choose to show data in a way that is most relevant to them.  In turn, it makes data more useful. They can select from tables, Gantt charts, calendars, Kanban boards, forms, and workloads. 
Automation
Workflow automation helps boost team productivity by reducing errors and delays.  Automatic processes free up valuable time and eliminate redundant work.  Teams can then redirect their focus to what matters most.  Monday.com offers automation recipes that are pre-defined combinations of triggers and actions.
❌ Cons
Mobile Interface
Monday.com uses an interface that was intended for desktops.  In particular, mobile and tablet versions do not deliver the entire experience compared to the web version.  As a result, it may not be the best option for teams that are always on the go.  There may be some workarounds like using landscape mode and zooming out.
Productivity Insights
Monday.com offers two types of activity logs which are board and item.  In short, a board activity log reveals all the changes made within an entire board.  Likewise, an item activity log displays changes made to a specific item.  Both options only provide a glimpse into team productivity.  These logs are not detailed enough to track productivity.
(Image Credit: monday.com)
---

Slack
Slack is a social collaboration software platform.  The acronym, SLACK, stands for Searchable Log of All Conversation and Knowledge.  The goal is to replace emails with instant messaging and inboxes with channels.  Email is not always the best form of communication.  It blocks new employees and team members from accessing vital information shared before they joined.  Alternatively, Slack overcomes the silo mentality by opening access to that past information.  Users can share files, brainstorm ideas, and collaborate effectively.  As a result, Slack simplifies communication, promotes collaboration, and achieves agility.
✓

Pros
Ease of Use
Slack has an intuitive and user-friendly interface.  New users will need minimal to no training.  Due to the ease of use, Slack has a high rate of workplace adaptability.  Non-technical users can quickly get on board with the platform.
Integrations
Slack offers more than 2,400 integrations.  This impressive library is beneficial for companies that want to integrate their current tools.  Additionally, integrations help users customize their experience.  Teams can also save time and avoid switching between various apps.
Reminders
Reminders in Slack are like a note to self.  Using the slash command function, users can set reminders for themselves.  This feature comes in handy for same-day notes to yourself.  Additionally, reminders are helpful to keep track of future events.  Besides reminders to yourself, you can also send reminders to channels.  Further, users can save time by setting up recurring reminders.
❌ Cons
Video Calling
Slack's video calling feature has some limitations.  First, video calls are limited to a maximum of 15 people. Larger teams will find this limit to be challenging.  Second, there is no option to record video calls.  Call recording would be a helpful feature to share calls with teammates that were not present in the meeting.
Addictive
Users report that Slack is comparable to social media.  Not only that, but some say that it is addictive.  The fast-paced environment can have employees clinging to their phones in fear of missing important communication.  Consequently, it can be hard to keep up with all the messages, threads, and notifications in large organizations.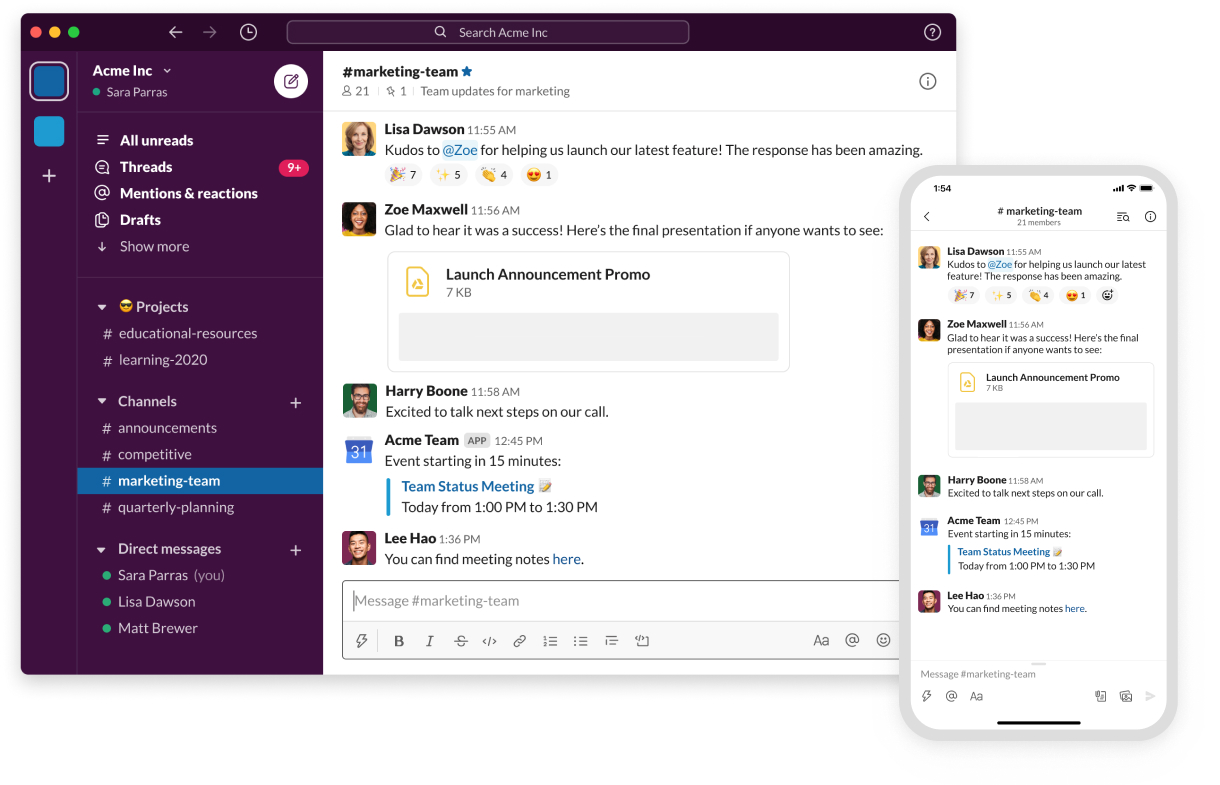 (Image credit: Slack)
---
Conclusion
In conclusion, team collaboration is a crucial component of business success.  There are several tools to choose from.  To determine the best fit, take inventory of your team's needs.  Next, compare your options.  Then evaluate the top choices based on your criteria.  Overall, we hope you find our research helpful for selecting the best team collaboration tool for your team.
📚 Learn more about how you can increase your team's productivity at the GridForce Blog.
✉ Want to get in touch?  We'd love to hear from you!  Drop us a message.
📣 Join in on the conversation and tell us about your favorite team collaboration tools in the comments below.